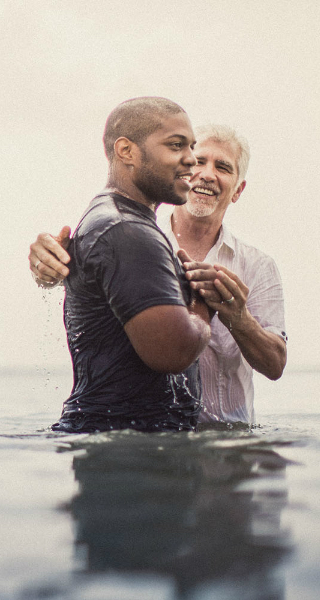 Welcome to Keene Assembly of God
Parking
Please use our Visitor's Parking as you pull in the lot.  On your left.
Restrooms
There is a restroom located in the nursery directly outside the sanctuary to the right. There are restrooms downstairs in our fellowship area. Take a left at the bottom of the stairs. The restrooms are next to the kitchen.
Our Services
Singing, worship, and preaching are important. . . . but without the presence of God they are meaningless.  For this reason we are committed to creating an atmosphere where the Lord's presence is welcome and realized each time we meet.  Though we schedule and plan each service, we quickly yield to any sovereign move of the Holy Spirit, allowing Him to minister as needed.
Singing and Worship
Our Sunday morning service opens with worship. This includes singing and times of praise (Psalms 30:4, 96:1-9).  Following or sometimes during the song service, the congregation will join in prayer. It is not unusual for individuals to pray aloud during these times. (Ephesians 5:19,20).
Meet and Greet Is On Hold Until After Covid.
There is a meet and greet time so that we can get to know you! After all, you are why we are here!
Congregational Prayer
At some point there will be corporate prayer where the church prays for the needs of the congregation. The sick may be anointed with oil and prayed for at this time (James 5:14-16).
The Message
Usually following prayer is the Pastor's sermon taken from the Scriptures. Preaching in the Assemblies of God can best be described as dynamic, as the Holy Spirit is given freedom to move and set the spiritual tone of the service (Matthew 10:7; Mark 16:15; Acts 10:42).
Time of Commitment
After the sermon, a time of dedication and prayer at the altars allows people to accept Christ as savior or pray for needs and concern in their lives (Acts 26:18; Ephesians 4:23; Psalms 25:16-18; 34:17-19).
Why do we clap our hands?  "Clap your hands, all you nations; shout to God with cries of joy." (Psalm 47:1)
Why do we lift our hands?  "I will praise you as long as I live, and in your name I will lift up my hands." (Psalm 63:4) "Lift up your hands in the sanctuary and praise the Lord." (Psalm 134:2) "I want men everywhere to lift up holy hands in prayer, without anger or disputing." (I Timothy 2:8).
Why do we have audible praise to God?  "Shout for joy to the Lord, all the earth." (Psalm 100:1) "Because your love is better than life, my lips will glorify you." (Psalm 63:3) "My tongue will speak of your righteousness and of your praises all day long." (Psalm 35:28)
Why do we pray for the sick?  

"Is any one of you sick? He should call the elders of the church to pray over him and anoint him with oil in the name of the Lord. And the prayer offered in faith will make the sick person well; the Lord will raise him up. If he has sinned, he will be forgiven." (James 5:14-15)

Why does the whole church pray at once for specific needs?  

"When they heard this they raised their voices together in prayer to God. "Sovereign Lord" they said, "you made the heaven and the earth and the sea, and everything in them." (Acts 4:24)

Why do we have speaking with tongues and interpretation of those tongues in the church?  "Therefore, my brothers, be eager to prophesy, and do not forbid speaking in tongues." (1 Cor. 14:39) "Now to each one the manifestation of the Spirit is given for the common good… to another speaking in different kinds of tongues, and to still another the interpretation of tongues." (1 Cor 12:7, 10). "I would like every one of you to speak in tongues, but I would rather have you prophesy. He who prophesies is greater than one who speaks in tongues, unless he interprets, so that the church may be edified." (1 Cor. 14:5)
Why do we prophesy?  "But everyone who prophesies speaks to men for their strengthening, encouragement and comfort." (1 Cor. 14:3) "I would like every one of you to speak in tongues, but I would rather have you prophesy. He who prophesies is greater than one who speaks in tongues, unless he interprets, so that the church may be edified." (1 Cor. 14:5)
Why do we sing choruses as well as hymns?  "Speak to one another with psalms, hymns and spiritual songs. Sing and make music in your heart to the Lord. (Eph. 5:19). "Let the word of Christ dwell in you richly as you teach and admonish one another with all wisdom, and as you sing psalms, hymns and spiritual songs with gratitude in your hearts to God." (Col. 3:16)
Events for week of December 5, 2021
This Week Navigation
December 5 @ 9:45 am
-
10:15 am
December 5 @ 10:30 am
-
12:00 pm
December 8 @ 7:00 pm
-
8:30 pm
Get In Touch
Keene Assembly of God
121 Park Ave
Keene, NH 03431
(Beside Wheelock Park)
t. 603-357-3677
kagchurch121@gmail.com
121 Park Ave. Keene, NH 03431, USA