Bryan & Hannah Bessette – US Missions Department of Church Planters + Developers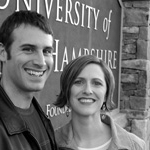 Bryan and Hannah Bessette have been serving as directors of Chi Alpha at the University of New Hampshire since they pioneered the ministry in 2002. The Bessette's have been married since 1998. They have three children,
Bryan graduated from Plymouth State College in 1998 with a degree in Physical Education/Athletic Training. His calling to ministry on the campus came as student. Motivated to see people live in health and wholeness, he knew education and medicine alone would not suffice. His dream is to see students empowered and equipped to live in tune with God, bringing Gods kingdom life into every part of our culture and world.
The Bessette's have made a ministry change but will continue to serve at UNH and continue to build on the work they have pioneered, including pastoring Fusion Community Church, connecting students and community members in a local missionary church plant, and directing The Freedom Cafe' where they work to 'end human trafficking through consistent community engagement, education and a simple way to fund the work necessary for a traffic free world.'
The Bessette's are now with the US Missions Department of Church Planter + Developers. This designation brings together our unique ministry roles and allows them to serve the campus while also building stronger collaborations with the local churches, non-profits and community groups.
Please pray for the Bessette's: for our families health, for wisdom in parenting, maintaining a God honoring and life-giving schedule, and directing the ministry at UNH.
Get In Touch
Keene Assembly of God
121 Park Ave
Keene, NH 03431
(Beside Wheelock Park)
t. 603-357-3677
kagchurch121@gmail.com
121 Park Ave. Keene, NH 03431, USA