Missionaries to Argentina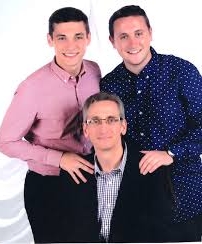 Current Ministry
Rocco and his late wife Ellen have served as missionaries to Argentina since 1988 and are co-pastoring the Life Christian Center in Buenos Aires Argentina. They founded a Center for Church Planting for Latin America. This network will serve to investigate church planting in spanish speaking countries, encourage and inspire national leaders and pastors of the need to plant new churches, provide relevant materials as well as training. This network will serve to exchange principles and dynamics for church planting throughout the spanish speaking world.
Previous Ministry
The DiTrolio's have started 15 churches throughout northern Argentina and have launched 12 schools of evangelism, a ministry that works in correlation with new church plants by offering believers classes on evangelism in the morning, practicum in the afternoon and nightly church services in the evening. In 1998 Rocco began directing the National Home Missions/Church Planting Department for the AG in Argentina until 2013. This ministry involved extensive travel throughout the country to encourage congregations to start new churches. They continue to travel and are involved in consulting, motivating and encouraging church planting throughout Argentina and Latin America.
About Argentina
Second in South America, only to Brazil in size and population, Argentina extends from the Atlantic to the Chilean border and the towering Andean peaks. Aconcagua(22,834 ft,6,960 m) the highest peak in the world outside Asia, resides in Argentina. The country is also bordered by Bolivia and Paraguay on the north and by Uruguay and Brazil on the east. The northern area, bordering Bolivia and Paraguay, is tropical in climate, swampy and partly wooded. The center of the country contains the rolling and fertile Pampas,which are rich in agriculture as well as sheep and cattle grazing that supports most of the population. Southward is the Patagonia, a region of cool, arid wooded steppes and fertile sections, it is also known for its cold, snow and glaciers.
Events for week of December 5, 2021
This Week Navigation
December 5 @ 9:45 am
-
10:15 am
December 5 @ 10:30 am
-
12:00 pm
December 8 @ 7:00 pm
-
8:30 pm
Get In Touch
Keene Assembly of God
121 Park Ave
Keene, NH 03431
(Beside Wheelock Park)
t. 603-357-3677
kagchurch121@gmail.com
121 Park Ave. Keene, NH 03431, USA